Celebrities
Julie Hewett has been been one of the foremost makeup artists working in Hollywood over the past 20 years. Her cult favorite Noir Collection of red lipsticks was specially designed on the set of the film Pearl Harbor when she needed long-lasting, pigmented shades. Julie has since designed an entire line of cosmetics called Julie Hewett Los Angeles that celebrities are obsessing over–and you will, too. One of my favorites, pictured above left, is the organic Camellia Balm. It's so soothing for dry lips, and my lips always feel really supple after using. Camellia oil is said to be most similar to human skin oil, so it absorbs quickly. It also smells good and makes for a smooth base under lipstick or gloss.
The other standout product in Julie's line is definitely the Cheekie. The Cheekie is also made with Camellia oil, and gives your cheeks or lips an instant flush. It's pictured above right in a new shade called Destiny, which Julie made for Miley Cyrus (Miley's real name: Destiny) on the set of the new Nicholas Sparks movie The Last Song. I love this shade as it adds a pretty, dusty pink glow to my cheeks instantly. The Cheekie comes in a pot and you can buy a brush to apply it with. I've been using my fingertips just as easily though, and I just love how naturally gorgeous it looks. On my lips, the consistency of the Cheekie was a bit more dry, so I used the Camellia Balm as a base. It added a perfect, neutral matte pink to my lips. Gotta love a multitasker! To check out Julie Hewett Los Angeles for yourself, visit juliehewett.net.
---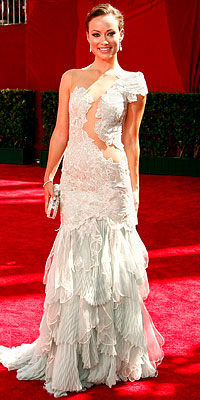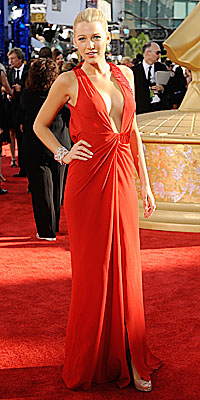 The Emmy Awards aired last night and is television's celebration of its very best. Of course, we love to analyze the best of the red carpet fashion worn by the stars the morning after! Here are a few of our favorite looks in no particular order–keep reading for the scoop on who wore what, and share your thoughts with us too!
Up first is Olivia Wilde from House, looking stunning in a Marchesa gown straight from their SS 2010 presentation. The gown had layers of juniper embroidered tulle and petal pleats, with a revealing, yet delicate, bodice. She also carried a pretty Marchesa crystal embroidered clutch. We also loved Blake Lively, who looked glowing and sultry in a deep red Versace with a plunging neckline. Her hair was elegantly done in a goddess-esque braid by Renato Campora of Frederic Fekkai, and her makeup was flawless (Dior, of course). (more…)
---
Coco Chanel is undoubtedly one of the most recognizable names in fashion and of course, everyone here at TDO can't wait to see the upcoming film about her life, Coco Before Chanel.  The lovely Audrey Tautou (one of our favorite French actresses) is perfectly cast – and of course, is also appropriately the face of Chanel N°5.  The fabulous Chanel reps sent over some behind-the-scenes photos and a sneak peek at their upcoming print advertising campaign with Ms. Tautou… we couldn't resist sharing them with you!  View the numerous images behind the cut: (more…)
---
Jackie Kennedy was my first style icon. I still remember pouring over picture books and biographies of her when I was barely a teenager, wanting not just to emulate her style but also that certain je ne sais quoi that I found so appealing. Through the years, I've never grown tired of looking at her iconic photographs- her wedding, walking along the Potomac, hosting dinner parties, with her children- but it was rare to see new images. So I was quite excited to this morning to find out that LIFE.com has released 20 exclusive never-before-published Jackie Kennedy photos in celebration of her and JFK's wedding anniversary (Sept 12). (more…)
---
As we eagerly await the beginning of Fashion Week, press releases for Fashion's Night Out, a global event to celebrate fashion and encourage shopping (my two favorite things!), have begun to roll in. Mark your calendars because September 10 in New York City is going to be a night for major bargains, exclusive giveaways, great performances, complimentary cocktails, and some serious star sightings. Shoppers, this night is all about you! Events are free and open to the public, so grab a few girlfriends and take to the streets to kick off yet another exciting week of fashion!
Here are just a few appearances you won't want to miss. For a full list of all things Fashion's Night out head to: http://fashionsnightout.com
---
'Tis the season for swimwear and sandals galore! My latest inspiration: Bohemian chic meets African beach safari. Here are a few of my latest summer must-haves, all of which remind me of vacationing to an exotic destination. Wear them individually with jeans or all together! (more…)
---
Just got back from a paparazzi-filled Reebok celebration to debut the new Reebok EasyTone shoe for women and lo and behold, look who was the DJ! Samantha Ronson spun tunes by Keri Hilson, Black Eyed Peas and more into the night as Reebok lit up 9152 Janice Place, a $10 million architectural masterpiece in Beverly Hills, with their pink logo and EasyTone shoe displays.
Roaming the property were TV darlings Audrina Patridge, Stacy Keibler, Karina Smirnoff and ANTM winner CariDee English as well as the very cute Vanessa Minnillo and High School Musical star KayCee Stroh. I also ran into the very funny actress Regina King and the apparently 14 weeks pregnant (though I couldn't tell – see?) Kendra Wilkinson, left, both decked out in EasyTones. And it's a good thing I got to there early to spot the Kardashians, including perfect-butt poster girl Kim (who looks just as beautiful in person as she does in photos). She was literally dashing out the front door 10 minutes after the event started with a coveted pair of the shoes … speaking of which: (more…)
---
It's no secret that we're huge fans of Rosena Sammi's jewelry over here at TDO. We're among good company; Rihanna was just spotted wearing one of their rings a couple weeks ago.  (Of course, they have a ton of other celeb fans too – like Blake Lively and Jessica Alba.)
The latest piece from their line we're drooling over?  It's the Jamanthi Earrings from the Cochin collection. Inspired by their floral namesake, these delicate studs are subtle enough for everyday wear, but glam enough for more formal occasions.  We love how the crystal plays off the 14K gold -fill, making the floral design really pop.
Guess what? Even though they're totally luxurious-looking, these are a pair of earrings you can actually afford to indulge in since they're a total steal at only $66. Get yourself a pair at ShopRosenaSammi.com.
---
It's been a while since I've lusted over a Louis Vuitton bag but the SC (for Sofia Coppola) bag for Louis Vuitton is my new favorite for the Spring season.  Since Marc Jacobs took over as head of design for Louis Vuitton, I've been finding that more and more of the bags are very MJ inspired, indicative no  more evidently than in the common heavy hardware found in the bag designs of both lines.   I like the way that hardware looks, but hate the way it weighs down on my shoulder.  My bags weigh about 50 pounds already thanks to everything I stuff in there, so I really don't need another 15 pounds added for a zipper or a mostly ornamental padlock.
Sofia Coppola, apparently shares a similar gripe with me regarding heavy hardware, and designed the SC bag to express her desire for a day bag that was "chic, discreet, and lightweight and that isn't enormous" without a lot of hardware.  Enter the SC bag, with the hybrid duffel inspired shape of Louis Vuitton classics, the Speedy and the Keepall.   (more…)
---
I had heard about JET Jeans, but didn't really pay much attention until reading Fashionista.com's rave. Then my curiousity was piqued. Skinny jeans that don't stretch out after four days? That's pretty amazing. So when I got the opportunity to try them, I totally jumped on it.
JET Jeans is founded by John Eshaya, the former VP, Creative Director and Buyer for Fred Segal – so he had a hand in making it one of the most influential and well-known boutiques in Los Angeles. Anyone who has been to Fred Segal knows that they have a wonderful selection of clothing that are always trendsetting. Naturally, JET Jeans follows this tradition that John set in motion at his former position. (more…)
---